During the recent crypto market downturn, the Elrond price has formed a parallel channel pattern. Over the last two months, the coin price has steadily declined as a result of this pattern. Furthermore, the price had lately breached a multi-month support level of $50. As a result, the post-breakdown Elrond Coin Price drop was expected to accelerate the bearish momentum and send prices down to the June low of $38.
Key points:
Since last week, the Elrond price has increased by roughly 11.7%.
The coin price broke out of the falling channel pattern in a bullish move.
The EGLD coin's intraday trading volume is $56 million, signifying a 130% rise.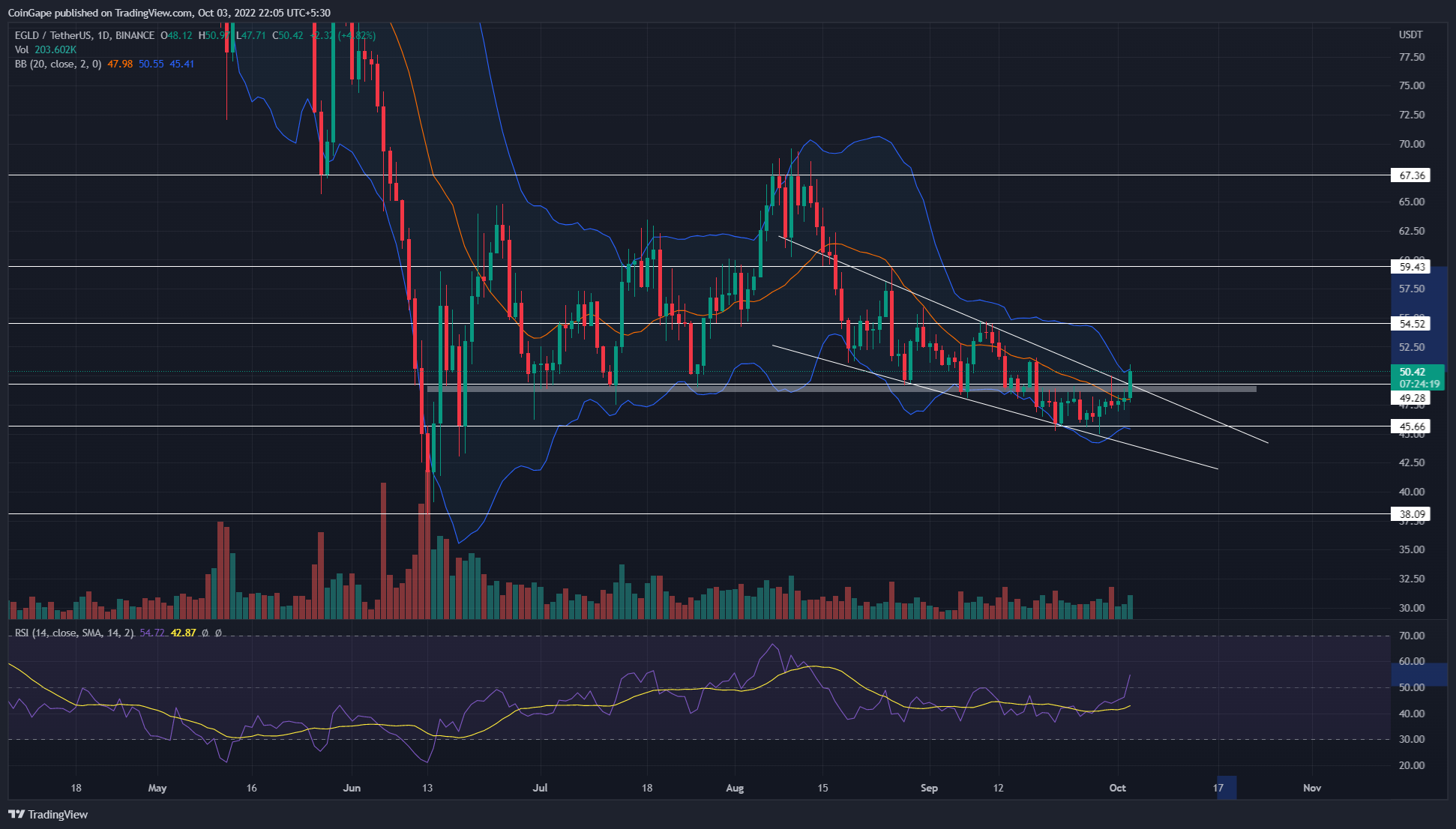 The sellers hesitated to follow through on this breakdown amid the persistent uncertainty in the crypto market. As a result, cryptocurrency prices remained stable within a narrow band of $50 to $45. However, coin traders followed the trading setup for the channel pattern, and today the prices broke above the combined resistance overhead trendline and $50.
The Elrond currency is currently trading at $50.57, up 5.11% on the day.
On the other hand, if buyers fail to hold above $50, the phony breakthrough scenario will re-energize the bearish momentum.
Indicator Technical
The daily-RSI slope has jumped above the midline, indicating that market sentiment is turning optimistic.
The coin price reached the top band of the Bollinger band indicator, indicating a rapid increase. As a result, the altcoin is predicted to consolidate over the $50 mark in order to prove its sustainability above this level.
Elrond Coin Intraday Price Levels
Spot rate: $50.5
Trend: Bullish
Volatility: Low
Resistance levels- $0.54.5, and $0.6
Support levels- $0.5 and $0.45