Following a major price decline in 2022, Shiba Inu (SHIB) meme cryptocurrency is gaining traction, with the coin receiving short-term purchasing pressure. SHIB's comeback has coincided with general crypto market increases led by large-cap assets such as Bitcoin (BTC) and Ethereum (ETH).
According to CoinMarketCap data, SHIB's market value was $8.49 billion as of August 14, up $1.53 billion from $6.96 billion in the previous 24 hours.
Other indicators of capital inflows include the price of SHIB, which has continued a weekly string of positive momentum. By press time, the token was trading at $0.0000155, up about 22% in the previous 24 hours.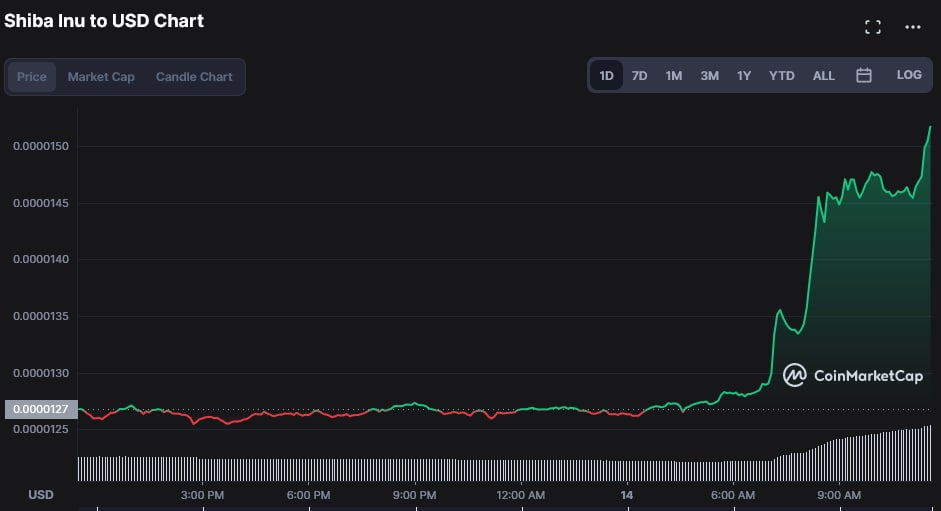 SHIB gains are in line with market increases.
Notably, following a shaky first half of 2022, SHIB began to show signs of recovery in July, with the gains corresponding with the wider market, which has been trading in the green zone in recent weeks.
Altcoins have historically followed patterns generated by large-cap assets such as Bitcoin. In this vein, Bitcoin surpassed the $25,000 mark for the first time since mid-June during the early trading hours of August 14, impacting the market.
Although SHIB gains are partly dependent on the overall market, network development has set the coin up for gains. The token has sought to reclaim its 2021 highs, with network activity ostensibly making the coin more enticing.
The developer community has been focusing on releasing more token burns in order to increase its acceptance. Furthermore, the introduction of ShibaSwap in 2021 was seen as a key driver of SHIB value in the future months.
The popularity of meme coins among investors
Furthermore, in the midst of the market correction, meme currencies appear to be losing favor with investors, with a lack of strong use cases highlighted as a primary cause.
Notably, Google Trends data revealed that global search searches for the keyword 'Shiba Inu' fell to their lowest point in over a year during July, indicating a lack of interest.
Surprisingly, despite the price drop, the network's transaction volume appeared unaffected. Meme coin transactions increased by 34% in July to 211,833, up from a 15-month low of 157,889 in June.
Shiba Inu, like other meme cryptocurrencies, has a reputation for producing large gains for early investors. This factor has prompted some investors to remain bullish on the asset despite the market downturn.
SHIB added over 20,000 new investors between June and July as interest in the decentralized financing (DeFi) asset resurfaced.